GHF-01C Fuse Cap Assembly Machine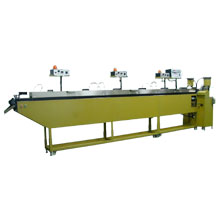 Model :

GHF-01C

Name :

Fuse Cap Assembly Machine
Description:
Capping Fuse Caps on Glass tube
Application:
Fuse
FEATURES
Material Auto Feeding and bonding. Reduce manual cost.
Rolling on conveyor of Seamless Capping.
Unique material feeding design, enhancing high production rate.
Automatic stop as no material feeded.
Robust mechanism, easy maintenance.
New type oven system to minimize energy loss.
SPECIFICATIONS
Applicable Sizes
: Ø3.6 x 10mm ~ Ø6.35 x 31.75mm
(also custom size available)
Capacity
: 80 ~ 150 pcs/min
Dimension
: Machine - 580(L) x 740(W) x 1250(H)mm
: Oven - 4220(L) x 260(W) x 1010(H)mm
Weight
: 420Kg
Related Products