GW-188M Melf Winding Machine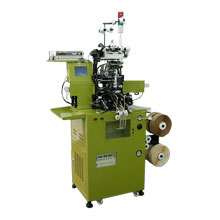 Model :

GW-188M

Name :

Melf Winding Machine
Description:
Specially designed for Melf (Leadless Cylindrical) Resistor Winding
Application:
Fusable Resistor,Melf Resistor
FEATURES
Microprocessor control.
The precise stepping motor driving enhances winding pitch, turns and motor speed acceleration control etc.
Vibrate Feeder.
Thread Length can be modified using mechanical methods and parameters setting.
Touch panel setting the resistance, winding mode and parameters. Screen shows error messages and functional for machine at a glance.
Easy learning operation display.
Low consumable and high flexible joint feeding lever.
Wire Feeding Sensing
Optional network monitoring system.
SPECIFICATIONS
Applicable Size
: Ø1.3 x 2.7mm ~ Ø4 x 28mm
Resistance Wire
: NiCr : Ø0.04 ~ 0.2m/m
: NiCu : Ø0.1 ~ 0.5m/m
Winding Mode
: Single, Dual, Triple, Quadruple, Non-Inductive Winding
Capacity
: Max. 25 pcs/min
Power
: AC220V 1Φ 50/60Hz 1KVA
Air
: 5Kgf/cm2 (40~60Liter/hr)
Dimension
: 600(L) × 500(W) × 1480(H)mm
Weight
: 200Kg