GS-2500L Low Ohm Sorting Machine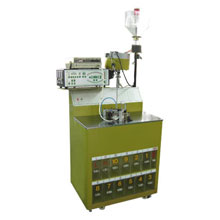 Model :

GS-2500L

Name :

Low Ohm Sorting Machine
Description:
GS-2500L Sorting Machine has adopted an ADEX Resistance Checker with High speed and High Accuracy which shows an excellent sorting performance especially on the low ohm value.
Application:
Metal Film Resistor, Metal Oxide Resistor, Metal Glazed Resistor, Carbon Resistor
FEATURES
Specially Designed for low resistance value below 0.1Ω. Greatly enhances the goods collecting rate during cutting process.
Sorting tolerance in±1mΩ
Resistance distribution in very high precise accuracy as 5%, 10% and 15% interval.
Avoiding any unnecessary loss and waste at post process by the wide range of initial process value.
4 terminal measurements.
SPECIFICATIONS
| | |
| --- | --- |
| Applicable Sizes | : Ø1 x 3.1mm ~ Ø7 x 23mm |
| Capacity | : 400 ~ 1,200 pcs/min |
| Value Range | : Capped Rod 10 mohm ~ 1 Mohm |
| Sorting Interval | : Capped Rod 5%, 10%, 15% |
| Sorting Bins | : 10 standard bins and High, Low, Over size |
| Air | : 3 ~ 7 kg/cm2(Dry Air) |
| Power | : AC110V/220V 1Φ 50/60Hz 0.5KVA |
| Dimension | : 700(L) × 455(W) × 1800(H)mm |
| Weight | : 150Kg |