GU-268 Special Cutting Machine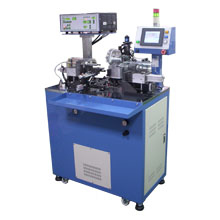 Model :

GU-268

Name :

Special Cutting Machine
Description:
Special functions for developing high performance and characteristic resistor products. Various sizes and special cuttings applicable for both leaded/leadless resistors and high power resistors.
Application:
Power Resistor, Metal Film Resistor, Metal Oxide Resistor, Metal Glazed Resistor, Carbon Resistor
FEATURES
A fine and delicate design. Easy and simple maintenance.
Optional vibrate feeder (below 7x75 size)
Quick converting resistor sizes and easy Maintenance.
Easy operation. Automatic and Manual Mode select. Touch panel Interface. Display graphical error position, history record, counter, yield rate and productivity etc.
Possible component development for the special characteristic resistors or Fuse, Inductor, Thermistor, Varistor and Surge Absorber functions.
SPECIFICATIONS
| | |
| --- | --- |
| Applicable Size | : 4 x 20 ~ 9 x 200 mm |
| Total Length | : 276 mm (with lead) |
| Range | : 0.1 ohm ~ 30 Mohm |
| Power | : AC220V 1Φ 50/60Hz 1.5KVA |
| Dimension | : 1200(L) × 620(W) × 1530(H)mm |
| Weight | : 220Kg |