GS-2500 Sorting Machine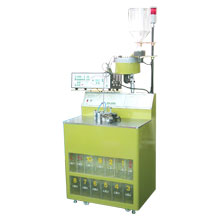 Model :

GS-2500

Name :

Sorting Machine
Description:
GS-2500 Sorting Machine is a Precise, High Speed and Excellent Reliability Rods Sorting Machine.
Application:
Metal Film Resistor, Metal Oxide Resistor, Metal Glazed Resistor, Carbon Resistor
FEATURES
Resistance distribution in high precise accuracy as 5%, 10% and 15% interval.
Sort in process mixed resistors quickly to avoid any unnecessary loss at post process.
Available an optional computer network monitoring and print out resistance distribution chart on a production process flow slip automatically in process control and trace easily. No extra labor increased.
SPECIFICATIONS
Applicable Size
: 1 x 3.1 ~ 7 x 23 mm
Speed
: 400 ~ 2,100 pcs/min
Working Range
: Capped Rod 100 mohm ~ 909 Kohm
Sorting Rate
(%Percentage)
: Capped Rod 5%, 10%, 15%
: Capped Rod 1%, 5%, 10%
Sorting Bins
: Effective 10 Bins, High, Low and Over Length
Air Source
: 3 ~ 7 kg/cm(Dry Air)
Power
: AC110V/220V 1Φ 50/60Hz 0.5KVA
Dimension
: 700(L) × 455(W) × 1800(H)mm
Weight
: 150Kgs