GL-350B/C Laser Cutting Machine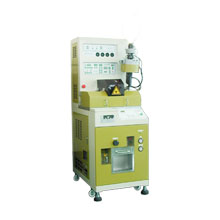 Model :

GL-350B/C

Name :

Laser Cutting Machine
Description:
GL-350 Laser series are adopted the latest fiber laser technology which is much more energy efficient than traditional laser systems. Laser cutting provides high reliability, high speed and long life-cycle with high precision production.
Application:
Metal Film Resistor, Metal Oxide Film Resistor, Surge Absorber, Fusable Resistor etc
FEATURES
Delicate mechanical design, simple and quick troubleshooting and adjustment.
Laser module offers a long and maintenance free life.
High speed, high precision, high reliability.
Low noise, Low dust.
Specifications
| | GL-350B | GL-350C |
| --- | --- | --- |
| Applicable Sizes | : Ø1 x 1.8 mm ~ Ø7 x 23 mm | : Ø1 x 1.8 mm ~ Ø7 x 23 mm |
| Capacity | : Up to 300 pcs/min | : Up to 300 pcs/min |
| Wavelength | : 1062nm ± 3nm | : 1062nm ± 3nm |
| System | : Fiber Laser | : Fiber Laser |
| Cooling | : Air Cooling | : Air Cooling |
| Laser Power | : 20W | : 30W |
| Beam Diameter | : 30 ~ 90μm | : 30 ~ 200μm |
| Peak Power | : >12kW | : >20kW |
| Air | : 5kg/cm2 | : 5kg/cm2 |
| Power | : AC2200V/220V/380V/440V 1Φ 50/60Hz 2KW | : AC2200V/220V/380V/440V 1Φ 50/60Hz 2KW |
| Dimension | : 830(L) × 550(W) × 1800(H)mm | : 830(L) × 550(W) × 1800(H)mm |
| Weight | : 250Kg | : 250Kg |