GST-2500 Test Sorting Machine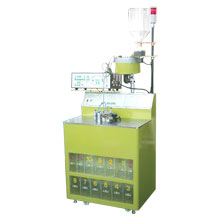 Model :

GST-2500

Name :

Test Sorting Machine
Description:
Finished work value re-sorting
(i.e: Sort out mixed works or value range sifting.)
Application:
Metal Film Resistor, Metal Oxide Resistor, Metal Glazed Resistor, Carbon Resistor
FEATURES
Re-check the helix-cut Rods Resistance distribution in very high precise accuracy as 0.5% and 1% range.
Re-sort in process mixed rods quickly to avoid any unnecessary loss at post process or per-sort high precise helix cut rods prior to welding stage.
Available for computer networking and print out resistance distribution chart on production process flow slip automatically in process control and trace easily. No extra labor increased.
SPECIFICATIONS
Applicable Sizes
: Ø1 x 3.1 ~ Ø7 x 23 mm
Capacity
: Below 10Ω,Over 1MΩ 300 ~ 400 pcs/min
: 10Ω ~ 1MΩ 1,000 ~ 1,200 pcs/min
Value Range
: Capped Rod 100 mohm ~ 909 Kohm
Sorting Interval
: Capped Rod 0.5%, 1%
Sorting Bins
: 10 standard bins and High, Low, Over Length
Air
: 3 ~ 7 kg/cm2(Dry Air)
Power
: AC110V/220V 1Φ 50/60Hz 0.5KVA
Dimension
: 700(L) × 455(W) × 1800(H)mm
Weight
: 150Kg