GU-168 Leaded Resistor Cutting Machine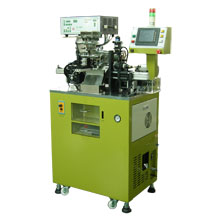 Model :

GU-168

Name :

Leaded Resistor Cutting Machine
Description:
GU-168 is designed to work on the lead welded resistor. It also enables the better control on tolerance range and reduces wastes from welding process.
Application:
Metal Film Resistor, Metal Oxide Resistor, Metal Glazed Resistor, Carbon Resistor, Cement Resistor
FEATURES
A fine and delicate design. Easy and simple maintenance.
Optional detaping, vibrate feeder and Taping equipment available.
Quick converting resistor sizes and easy Maintenance.
Easy operation. Automatic and Manual Mode select.
Touch panel Interface. Display graphical error position, history record, counter, yield rate and productivity etc.
SPECIFICATIONS
| | |
| --- | --- |
| Applicable Sizes | : 1.3 x 2.7 ~ 7 x 23 mm |
| Total Length | : 100 mm (with Lead) |
| Capacity | : Max.25 pcs/min |
| Range | : 0.1 ohm ~ 30 Mohm |
| Power | : AC220V 1Φ 50/60Hz 1.5KVA |
| Dimension | : 1000(L) × 620(W) × 1530(H)mm |
| Weight | : 200Kg |