GLS-350B/C Laser Cutting Machine (Scanner Type)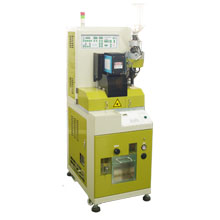 Model :

GLS-350B/C

Name :

Laser Cutting Machine (Scanner Type)
Description:
GL-350 Laser series are adopted the latest fiber laser technology which is much more energy efficient than traditional laser systems. Laser cutting provides high reliability, high speed and long life-cycle with high precision production.
Application:
Metal Film Resistor, Metal Oxide Film Resistor, Surge Absorber, Fusable Resistor etc
FEATURES
Delicate mechanical design, simple and quick troubleshooting and adjustment.
Laser Scanner enhanced. Easy line control and converting sizes.
Laser module offers a long and maintenance free life.
High speed, high precision, high reliability.
Low noise, Low dust.
Specifications
| | GLS-350B | GLS-350C |
| --- | --- | --- |
| Applicable Sizes | : Ø1 x 1.8 mm ~ Ø7 x 23 mm | : Ø1 x 1.8 mm ~ Ø7 x 23 mm |
| Capacity | : Up to 300 pcs/min | : Up to 300 pcs/min |
| Wavelength | : 1062nm ± 3nm | : 1062nm ± 3nm |
| System | : Fiber Laser | : Fiber Laser |
| Cooling | : Air Cooling | : Air Cooling |
| Laser Power | : 20W | : 30W |
| Beam Diameter | : 30 ~ 90μm | : 30 ~ 200μm |
| Peak Power | : >12kW | : >20kW |
| Air | : 5kg/cm2 | : 5kg/cm2 |
| Power | : AC220V/380V/440V 1Φ 50/60Hz 2KW | : AC220V/380V/440V 1Φ 50/60Hz 2KW |
| Dimension | : 830(L) × 550(W) × 1800(H)mm | : 830(L) × 550(W) × 1800(H)mm |
| Weight | : 250Kg | : 250Kg |