GW-268 Flat Wire Welding Machine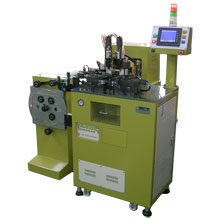 Model :

GW-268

Name :

Flat Wire Welding Machine
Description:
Metal plate(ribbon wire, stripe) double side lead welding
Application:
Cement Resistor
FEATURES
Adopt touch panel, easy operation, graphical control interface and error display, error history record.
Lead-wire Length Setting in panel. Length of plate adjusted by micro gauge. Simple and fast setting.
Delicate mechanical design, simple and quick troubleshooting and adjustment.
SPECIFICATIONS
Applicable Size
: 1~2mm(W) x 20~45(L) x 0.8~2(t) mm
(Custom size available)
Lead-Wire
: Ø0.45 ~ 1 mm
Capacity
: 18 pcs/min
Power
: AC220V 1Φ 50/60Hz 3KVA
Air
: 5Kgf/cm2
Dimension
: 980(L) × 480(W) × 1560(H)mm
Weight
: 250Kg